Bernie Herpin is a retired member of the United States Air Force. He also served in the United States Navy. Use of his military rank, job titles, and photographs in uniform does not imply endorsement by the Air Force, Navy, or Department of Defense.
Biography of
William Bernard Herpin, Jr.
Colorado Springs, CO
(719) 596-3921
William Bernard ("Bernie") Herpin, Jr., was born in August 1943, in St. Petersburg, Florida, to William B. Herpin, Sr. (Deceased) and Mary Louise Murrah (Deceased). He attended public and Catholic schools in Texas, Florida, and Louisiana graduating from Menard Memorial High School, Alexandria, Louisiana, in 1962. Bernie received an appointment to the United States Air Force Academy and attended 1962 - 1964. In 1965, he was married to Linda Elaine (Bjornerud) of Colorado Springs.
In August 1965, Bernie enlisted in the United States Navy. After schooling and serving on the USS Simon Bolivar (SSBN-641), he was selected for the Navy Enlisted Scientific and Education Program and attended the University of Kansas. He graduated with a Bachelor of Science degree in Aerospace Engineering and was commissioned an Ensign in the US Navy in January 1973. After service onboard the USS John Marshall (SSBN-611) and USS Robert E. Lee (SSBN-601) and at the Naval Submarine Training Facility (Pacific) with duty stations in New London, CT; Charleston, SC; Vallejo, CA; and Pearl Harbor, HI, he transferred to the US Air Force in 1980 and was assigned to the Headquarters, North American Aerospace Defense Command, Colorado Springs, Colorado. He retired from military service as a Captain in 1985.
In 1985, Bernie graduated from Webster University with a Master of Arts degree in Computer Resource Management.
From 1985 until January 2003, Bernie was employed at National Systems & Research Co. (NSR) where he held positions including Project Manager, Deputy Program Manager, and Contract Administrator. In January 2003, he joined the staff of Lockheed Martin Information Technology and is currently a Senior Information Systems Analyst supporting the 1st Space Operations Squadron at Schriever Air Force Base.
In March 2006, Bernie was appointed to the Colorado Springs City Council as an At-Large member to complete the term of a resigned councilmember. Bernie was elected to the Colorado Springs City Council in April 2009 for a 4 year term as the representative from District 4.
Linda has been a resident of Colorado Springs since 1952 and is a graduate of Wasson High School. She completed 40 years with AT&T in 2012. Linda and Bernie, who have been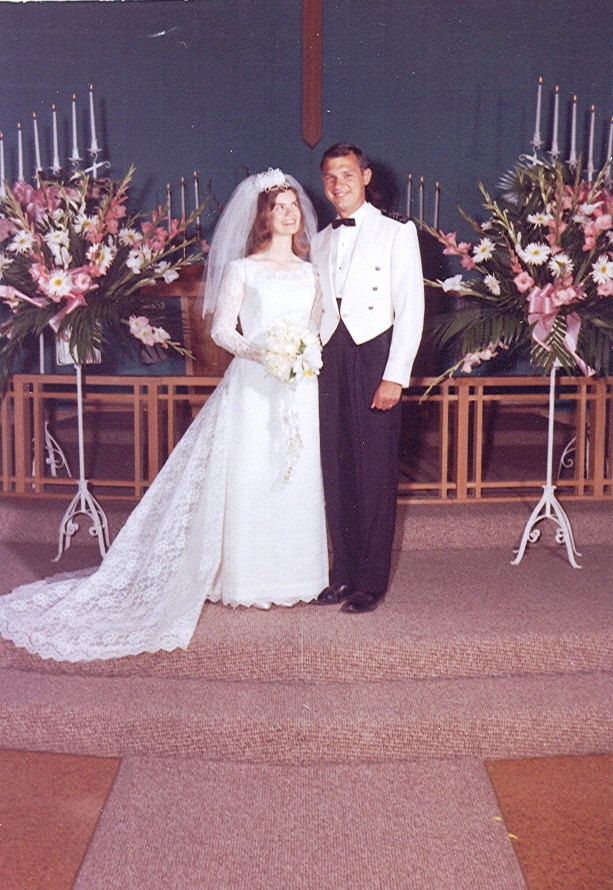 married for 47 years, have three daughters: Tiffany Dawn, born in February 1972, in Lawrence, Kansas, is a graduate of Mitchell High School in Colorado Springs and Colorado State University. Tiffany is a former database Engineer at Verizon Business (formerly MCI) in Colorado Springs. She is a stay at home mom and is married to Paul Koch who also works at Verizon Business. They have two daughters, Kathryn Rose, who was born in September 2010, and Caroline Lily, who was born in June 2012. Heather Nicole ("Nikki"), born in October 1973, in New London, Connecticut, is a graduate of Mitchell High School and has attended Colorado State University. She is married to Darrell Lindquist, a manager at Albertson's. Nikki runs her own house cleaning service. They have a son, Dayne Alan, who was born in April 2006 and a daughter, Hope Nicole, born in January 2009. Kari Ann, born in December 1977, in Honolulu, Hawaii, is a graduate of Mitchell High School. She is married to Joshua Reed DeBurger who is serving in the US Navy. They have a son, Connor Reed, who was born in March 2001 and a daughter, Emma Nicole, who was born in September 2003.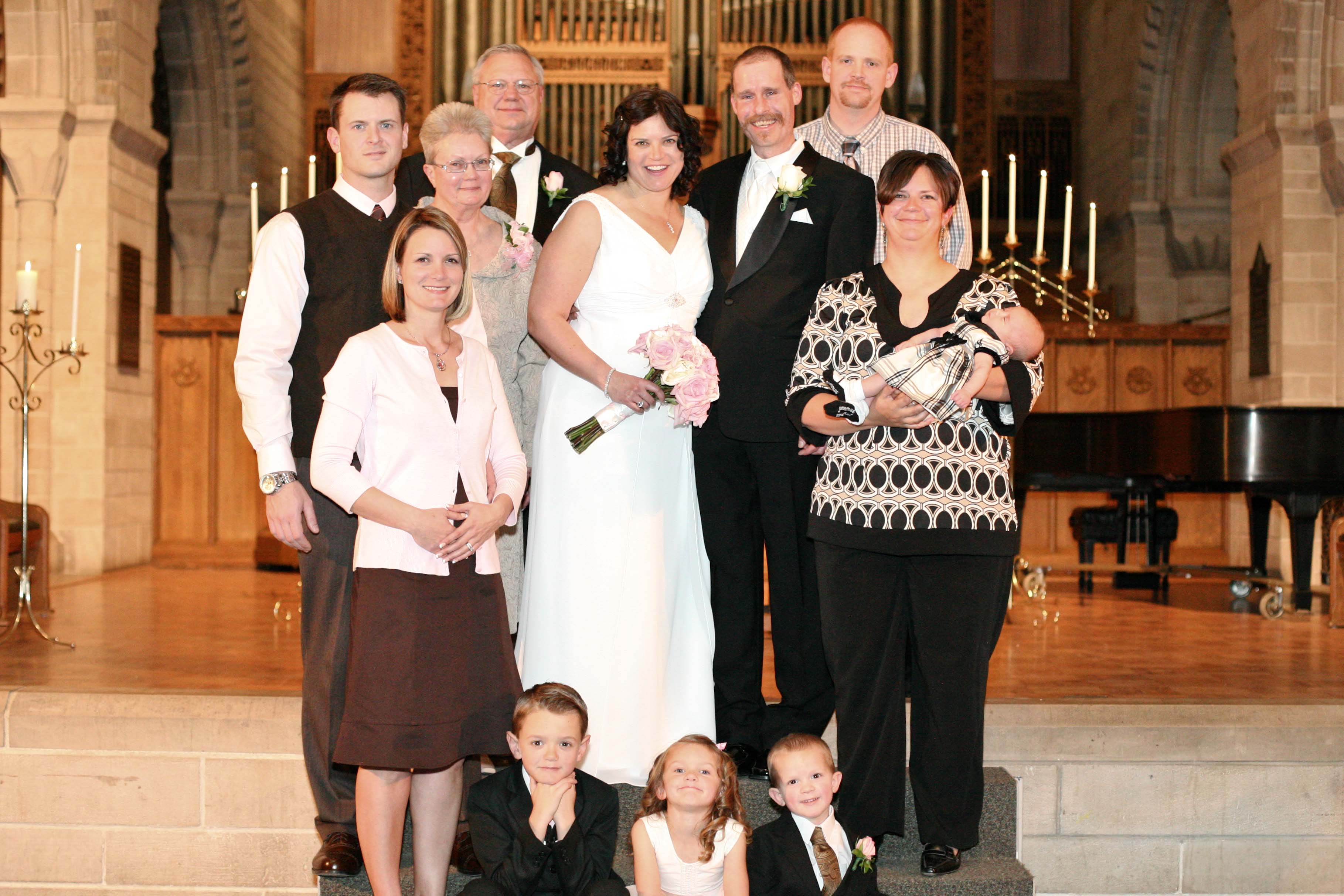 Herpin Family at Tiffany's Wedding
Bernie, Darrell (back)
Joshua, Linda, Tiffany, Paul (middle)
Kari, Nikki (holding Hope) (front)
Connor, Emma, Dayne (sitting)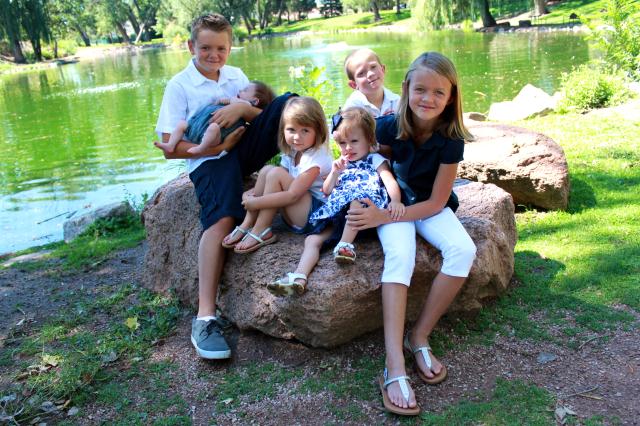 Herpin Grandkids
(L to R) Connor holding Caroline, Hope, Dayne (back), Kathryn, Emma